Europe's largest offshore wind farm goes into operation
---
Hornsea2, the largest offshore wind farm facility, is fully operational.
---
The world's largest offshore wind farm is fully operational
Hornsea2, the largest offshore wind farm facility, is fully operational, developed and owned by Danish energy company Orsted, located 89 km off the coast of Yorkshire, England, with an installed capacity of over 1.3 GW and an area of ​​approximately 462 km², the size of New York More than half the city's area, a total of 165 whirlpools will power more than 1.4 million UK homes. Hornsea2 uses Siemens Gamesa turbines with a blade length of 81 meters, and one rotation of the wind turbine blades can power an average British home for 24 hours.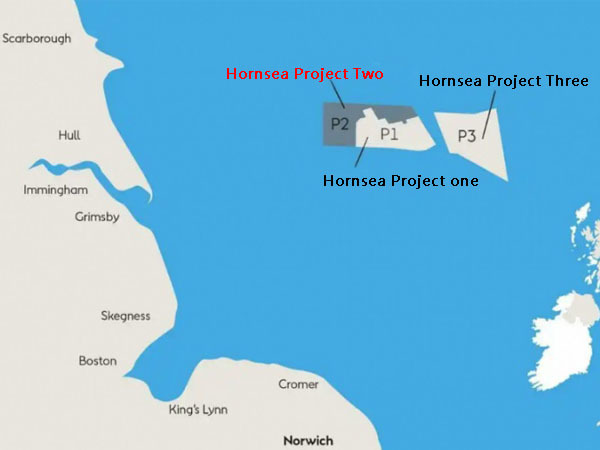 The growing importance of offshore wind farms
The Hornsea2 project, which first generated electricity in December 2021, comes as the Danish energy company announced its commissioning as European countries try to wean themselves off Russian fossil fuels and natural gas. Therefore, in the face of the severe cost of living crisis faced by British households, the renewable energy project of offshore wind farms highlights the milestone significance, directly helping the United Kingdom to improve the security of energy supply and solve the problem of electricity consumption. Elastic demand reduces reliance on expensive fossil fuels and lowers consumption costs for consumers.
UK to be a leader in the offshore wind industry
The UK's mature offshore wind industry will continue to grow over the next few years as it continues to grow. The UK government's goal is that by 2030 the installed capacity of offshore wind power will reach 50 gigawatts, so the UK will become a leader in the offshore wind power industry. According to another research report, the UK will consume about 241,000 tonnes of cable conductors in 2021, making it the fifth largest market in Europe. With the increase in demand for electricity, as well as renewable energy, new energy vehicles and other fields, the consumption of cable conductors in the UK will also be driven by the increase in demand, and the consumption of cable conductors is expected to increase by 3% to 251,000 Ton.